Over the years the group has produced a number of publications:
The 5 Walks series
Initially these were the 5 walks series by the late Jim Carley, most of which are still in print (although they are in need of bringing up to date). However there are plans to make these available on line in a format that will aid periodic revision.
For people who wish to explore the local footpaths the group publishes the following in their 5 walks series
Set A – Meopham Green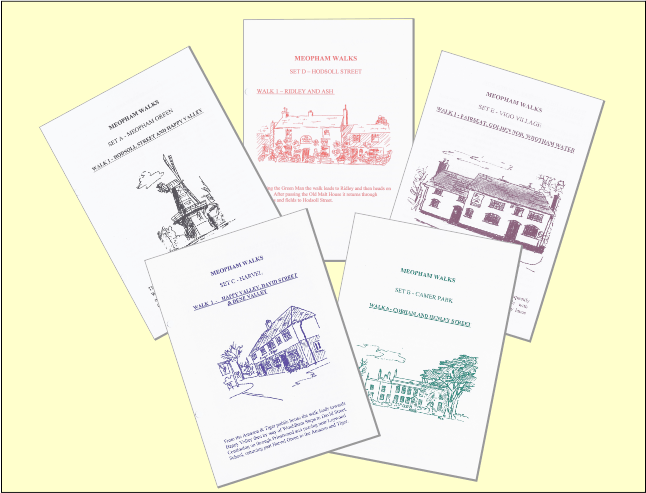 Set B – Camer Park
Set C – Harvel
Set D – Hodsoll Street
Set E – Vigo
Each set consists of 5 circular walks with a detailed map and description
They are currently available from The Gravesham Tourist Information Office "Town Centric" for £2 per set or from the Group's secretary for £1.
The 50/50 Walks series
In 2012 John Tyler created the 50/50 walks series to commemorate the 50th year of the Meopham & District Footpaths Group.
30th Anniversary was published in 1992 to mark the Group's 30th year.
This makes interesting reading and give a good insight into the Group at that time.

50 Golden Years
50 Golden Years was published in 2012 to mark the Group's 50th year.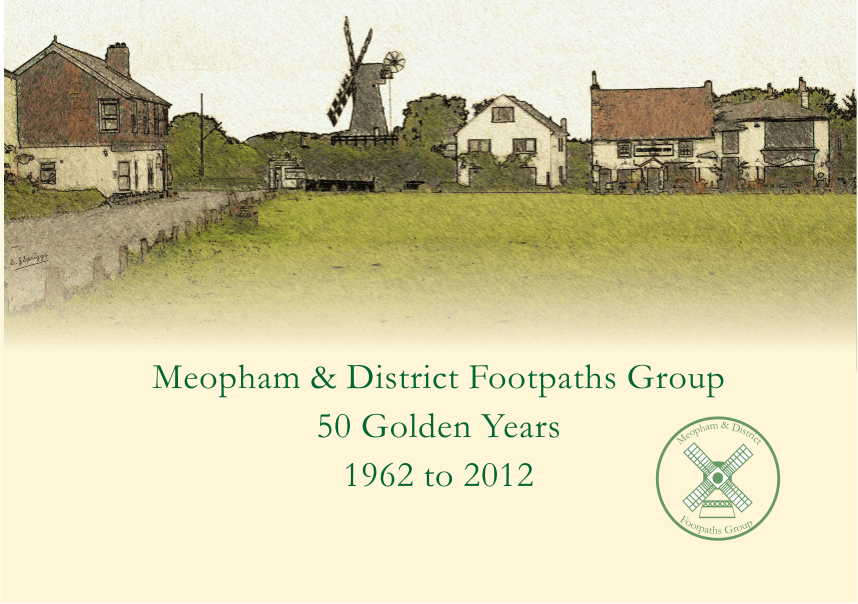 This shows how the group (and home publishing) has evolved since the 30th year publication. To reduce file size the publication has been split into 3 separate sections.
Part 1 – narrative section, where group members past and present and supporters record their thoughts, including our late President & Founder Pat Wilson.
Part 2 – time line showing significant events in the Group's history.
Part 3 – appendix to the History section, listing all the cases where the Group made representation to protect Rights of Way.
The Lost Roads of Meopham Forty Years On
Michael Norman has worked long and hard and in spite of illness has brought Jim Carley's original 1971 publication up to date. Jim was a serial publisher of 40 or so titles. Their theme was always local but eclectic. Although published through the Meopham Historical Society, the copyright rests with the Carley Family. We are grateful to the family and to Michael Norman for permission to publish The Lost Roads of Meopham 40 Years On here. We hope that this will be of interest to the members of this Group and those of the Meopham Historical Society.
This book is now also available in print, thanks to a grant from Meopham Parish Council. Copies (£4.95) can be obtained by contacting Mick at mlr_norman [at] yahoo [dot] com (please substitute the correct symbols in this address – these have been omitted to help prevent spam). These can be posted for an additional £1.50 or collected from Mick's home in Meopham. Any profit will be donated to Meopham Historical Society.