In 2012 the 50/50 walks were created by John Tyler – the Group's Walks Secretary at that time – to commemorate the 50th year of the Meopham & District Footpaths Group. The series of 9 circular walks, all starting from Meopham Green, covers a total distance of 50 miles. The map below provides an overview of the routes.
The text of each walk is available to down load in pdf format below. The walks visit all areas of the parish and range into adjacent areas. They vary in length between 4.5 and 6.5 miles.
It is recommended that walk guides are read in conjunction with the Ordnance Survey Explorer Map 148. The text provides the OS grid reference for all the key points. The Ordnance Survey website will tell you all you could ever want to know about Grid References.
Even if you have a GPS device, which can make life easier, a traditional Ordnance Survey paper map is still recommended.
All the walks start and finish at Meopham Green (map ref. TQ 641 652), where there is adequate parking, excellent hostelries, public toilets and a stop for the 308 bus.
Although the routes have been carefully researched, things do change from season to season and buildings get modified. So make sure that you check your progress against your map, take care and enjoy your day out. If you do find a problem, please let us know – see our contacts page.
Download your walk guides here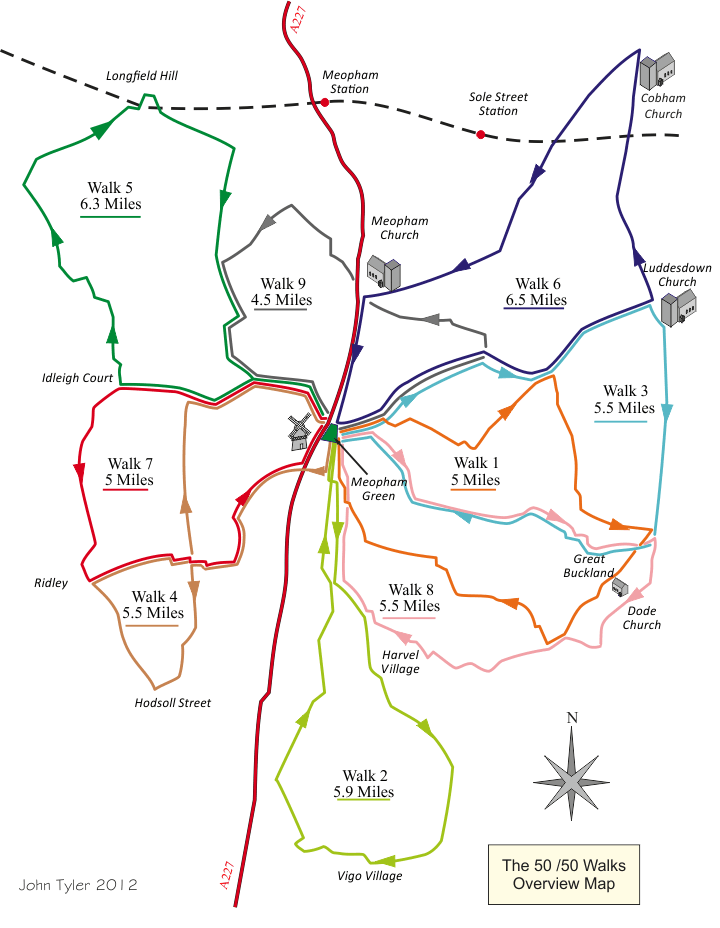 Walk 1
Meopham Green to Coombe Farm and Great Buckland
5 Miles: with several steep hills.
Walk 2
Meopham Green to Vigo and Culverstone
5.9 Miles.
Walk 3
Meopham Green to Luddesdown and Great Buckland
5.5 Miles.
Walk 4
Meopham Green to Hodsoll Street
5.5 Miles.
Walk 5
Meopham to Hartley and Longfield Hill
6.3 Miles.
Walk 6
Meopham Green to Cobham via Luddesdown
6.5 Miles.
Walk 7
Meopham to Idleigh Court and Ridley
5 Miles.
Walk 8
Meopham to Great Buckland and Harvel
5.5 Miles.
Walk 9
Meopham Green, Foxendown and Longfield Hill
4.5 Miles.