Old Chalk New Downs Project
In July 2017, this Kent County Council project to improve, restore and reconnect threatened chalk grassland habitats in and around the Kent Downs Area of Outstanding National Beauty was given permission to begin by the Heritage Lottery Fund. For full details of this project please see the Heritage Lottery Fund press release at www.hlf.org.uk
Plantlife will be leading a 3½ mile walk on Sunday 22 July to find and identify butterflies of Ranscombe's downland meadows and woodlands.  For more details please visit http://www.oldchalknewdowns.org.uk/blog/chalkland-events-2018
A range of workshops teaching practical skills, species identification and survey techniques is being offered. These will include an annual workshop for owners and managers of land within the project area on how to manage their land for the benefit of bees and other pollinators. There will also be a variety of free training sessions for anyone interested in helping care for our precious chalk downland – with subjects such as pollinator survey techniques, invertebrate and wildflower study and more practical topics such as brushcutter training.
Details of the available courses can be obtained from the Project Outreach Officer on 03000 419486. You can also sign up to the Explore Kent newsletter – if you tick your interest in Old Chalk New Downs you will be sent monthly inspirational ideas, priority events and details of the free workshops.
What to do when a path through a field is blocked by crops
If the public right way through a field is impassable due to an obstruction, you are legally allowed to take a diversion. If the whole field is cropped, including the public right of way, and only the margin is not cropped, the only possible diversion is via the field edge. The farmer has a duty to prevent a crop (other than grass) from making the path difficult to find or follow. You have the right to walk through crops growing over a path and, provided you stick as closely as possible to the correct line, you should not be liable for any damage caused to the crops.
[reproduced by permission of walk, the magazine of the Ramblers]
Using a mobile phone when you get into difficulties
Instead of dialling 999, use 112 to contact the emergency services as it can even be used on locked phones and will search all available mobile networks to find the strongest signal.
If you also register with the 112 network (I have – just text 'register' to 112) you can send a text to 112 if the signal is too poor to make a phone call.
Useful apps which are free to download:
I.C.E.
This allows you to enter emergency contact details, blood type and allergies. (Requests have been made to the creator of the app to be able to add more than one contact and to be able to add medical conditions and medications.) Even if your phone is locked, the widget can be opened to access your emergency information.
GPS OS Grid Reference finder
This app uses GPS (so no internet connection is required) to automatically find the OS grid reference of your current location. Not only does this provide accurate information if required by the emergency services – it also shows where you are on the map if you've wandered off course!
Emergencies
You never know when something might happen to you while you're out walking. If you keep emergency contact numbers in your backpack, this will help walks leaders or the emergency services to contact your nearest and dearest in the event of an accident or other emergency.
ICE (In Case of Emergency)
If you enter emergency contacts in your mobile phone address book under the names "ICE1", "ICE2" etc this will help walks leaders or the emergency services to contact your nearest and dearest in the event of an accident or other emergency.
Your phone must be unlocked and working to make use of this service.
The Deregulation Bill
This bill, which contains key proposals from the Natural England Stakeholder Working Group on unrecorded rights of way, has a cut-off date of 2026. Any historic path that's not on the definitive map by then will be left off it. If any of you are aware of any such unrecorded but historic routes please let Steve Bainbridge know.

Sad News – Mike Groom has died
We are very sad to report Mike's death on 7 January 2015. He was a valued member of our committee and created and managed our website. His contributions to the Group will be greatly missed.
Pat Wilson Memorials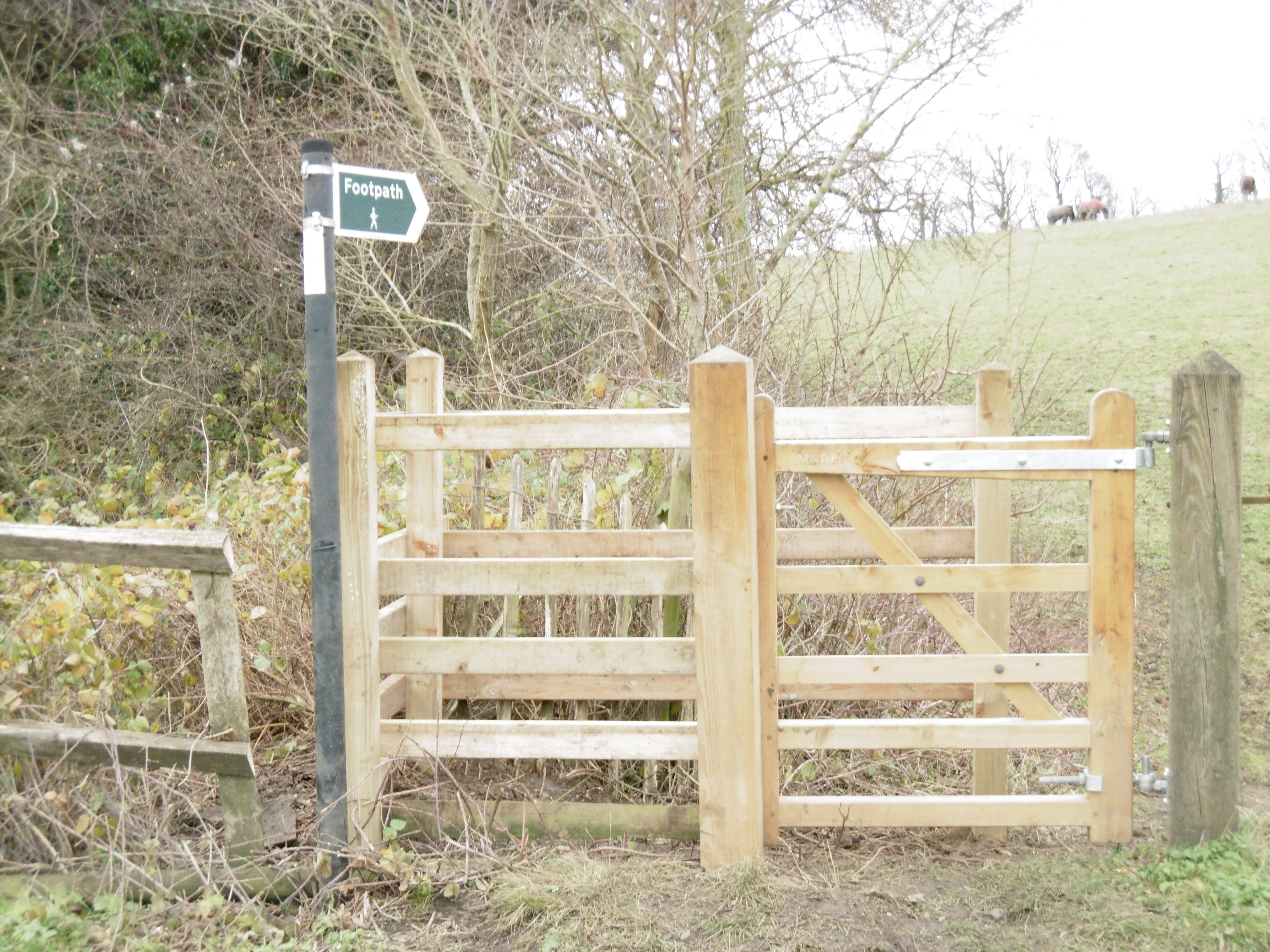 The Meopham & District Footpaths Group's memorial – a wooden kissing gate – has been erected on the footpath from Meopham Green to Priestwood, at the junction with Whitehill Road. On 3 May 2015 a memorial walk visited the gate, where Pat's granddaughter Emily and daughter Hilary read the poem written by Alan Smith in tribute to Pat.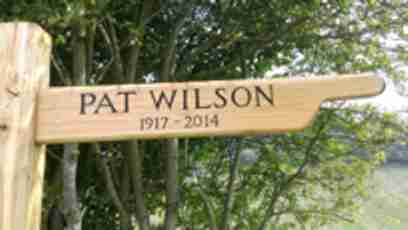 The Luddesdown Group has also erected a memorial to Pat.
Stephen Mulvaney kindly sent us this photo.
For details of Pat's life and achievements please see the dedicated page.
2014 Meopham Parish Paths Survey
Ken and his trusty band have completed the annual survey of all the Rights of Way in Meopham, which can be seen on the Survey page. Walking all the paths in Meopham with clipboard in hand is no mean feat. Ken and his team should be congratulated for their effort. We all benefit from this work and it is much appreciated by the Parish Council.
The Lost Roads of Meopham
In 1971 Jim Carley published a booklet "The Lost Roads of Meopham". One of our members, Michael Norman, has diligently walked all the original routes to bring the work up to date. "The Lost Roads of Meopham – Forty Years On".
Gravesham Rights of Way Committee (GROWC)
This committee has been established for many years. As many members are not aware of its existence, Ken Dare has produced these notes.
GROWC is a broadly based and flexible organisation. Its objects are to promote and facilitate the use of public rights of way in the Borough of Gravesham and its surrounding areas. It places importance on encouraging co-operation between statutory and voluntary bodies. Membership is open to any voluntary or statutory organisation in the Gravesham area interested in public rights of way. National and Regional bodies may also send a member. Local Parish and Gravesham Borough Council join the meetings and play an active and informative part.
Meetings are held in February, June and October. Special meetings may be held if required. Subjects coming before the Committee are exceptionally diverse. Items range, for example, from footpath and bridleway matters to the Gravesham Core Strategy and the proposed new Thames crossing – and so much more.
Meopham and District Footpaths Group is represented on the Committee and also represents Meopham Parish Council in the capacity of its Footpaths Wardens. We value the opportunities provided by our membership of GROWC.
New Online Picture Gallery
We collect far too many photos to show in our newsletter or on this site but they are all added to our Picasa Web page after publication of each quarterly newsletter. Here you will find albums dedicated to the North Downs long distance walk, group holidays and social events as well as pictures taken on some of our walks.
If you are a member and would like to add your own photographic talent to the gallery please contact Mags Bown at
publicity [at] meopham-walkers [dot] co [dot]uk.